WINGATE – Graduate and professional students gathered under the oaks in the Academic Quad on May 14 to receive degrees from Wingate University. The vast majority of them earned degrees in the healthcare industry.
Guest speaker Janet LaBar, CEO of the Charlotte Regional Business Alliance, provided encouraging statistics for the newly minted grads. 
"There are currently 6,100 healthcare job postings in the Charlotte region, and steady job growth is projected over the next several years," LaBar said. "On top of this, the Charlotte region was recently ranked the top potential market for life sciences."
LaBar wasn't just trying to make them feel good. 
"I'm sharing with you the tenets of this region and the outlook for this industry because, selfishly, I want you to stay here," LaBar said. "Live here. Work here. Play here. Wingate has prepared you to make a difference, and the Charlotte region has all the right ingredients to welcome the mark you'll make."
In total, 162 students were eligible to walk across the stage (about 30 students will complete their degree requirements over the summer). Sixty-eight earned a doctor of pharmacy degree. Thirty-five received a doctor of occupational therapy. Three-fourths of degrees conferred were in the healthcare field, including the first seven master of public health degrees ever granted at Wingate. Students also received advanced degrees in accounting, business administration, sport management, physician assistant studies and education. 
Students overcome challenges
Among the pharmacy graduates was Marissa Marks, who will soon begin an acute-care residency at Atrium Health's Carolinas Medical Center. 
A former student-athlete at Wingate who spent two years on the women's tennis team, Marks endured the COVID-19 pandemic and a pair
of jaw surgeries during her four years in the School of Pharmacy but still wound up receiving the Lilly Achievement Award as the class valedictorian.
"In pharmacy school, there were many challenges," she said. "However, I was able to adapt, and I think it made me a stronger student and hopefully continues to benefit me as a pharmacist."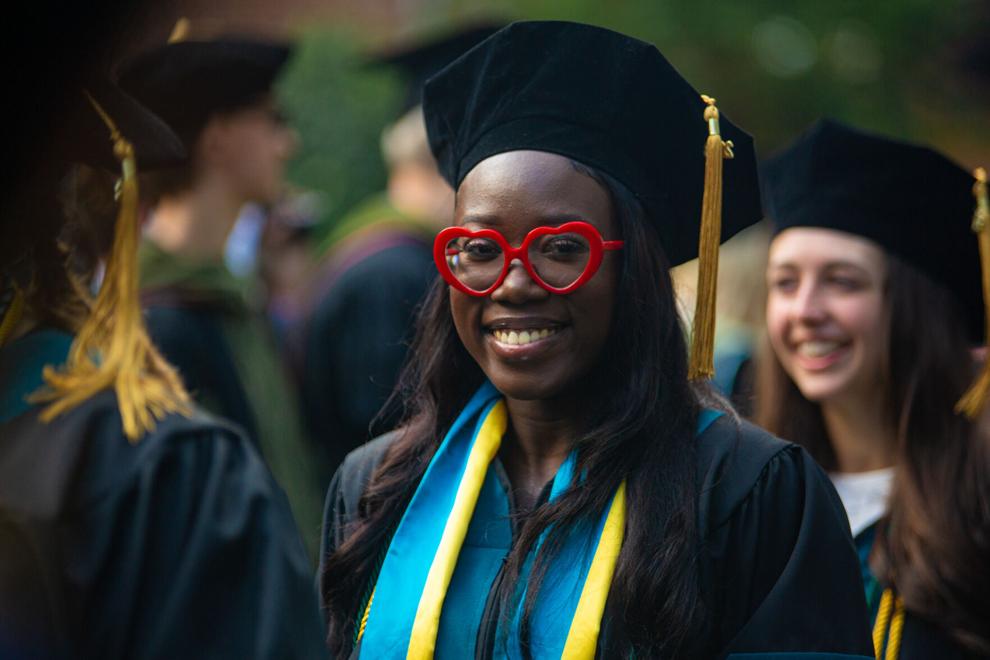 Alisha Woodside has overcome her share of challenges too. 
The Bahamas native was diagnosed with Lupus when she was 10, and as a child she made quarterly trips to Durham for treatment. That led her to finish high school in North Carolina, and after earning a pair of degrees at UNC Greensboro, she wound up in Wingate's doctor of occupational therapy program. She wanted to become an occupational therapist after seeing the care that OTs gave her autistic brother in the Bahamas.
Woodside overcame her Lupus symptoms to earn her doctorate and says that staying active – she served as an officer in two professional occupational therapy organizations, was a supervisor in the McGee Center and performed on Wingate's W dance team – kept her healthy.
"In occupational therapy, we believe that wellness isn't strictly the absence of disease," Woodside said. "It's, Is that person able to engage in things that they deem important to them? My involvement on campus was stuff that was important to me, and because I was able to
engage in that, I was well. And because I was well, I was able to do well in school." 
Woodside, who served on the executive boards of the Student Occupational Therapy Association and the Coalition of Occupational Therapy Advocates for Diversity, received the OTD Leadership Award. 
Other OTD-award winners on May 12 were Rose Weurtz (Service Award), Caty Miller (Scholarship Award), Stacy Kobe (Outstanding Fieldwork Student) and Lyndsi Perez (Outstanding Doctoral Capstone Student).
Miller said she chose Wingate because she felt "so cared for" when she came for her interview. 
"The professors truly took an interest in me and my growth," Miller said. 
Miller plans to work in in-patient rehab in a hospital setting. 
"I have worked for so many years towards this goal, and it is amazing that it's finally here," she said. "All the hours I have put in have led to this day, and I can't wait to start working in my profession!"
Parting words from speakers
In her address to students, LaBar emphasized three aspects of life she thinks graduates should pay close attention to: passion, purpose and path. 
By living one's life with passion and aligning that passion with purpose, she said, students can find a rewarding career path.
"My passion is building communities for the businesses and people in them," LaBar said. "My purpose is to leave it better than I found it for those who will follow. And that is true with anything I do. If it's my kitchen or the beach, or a previous job, or Charlotte. I will pour my passion and energy into my purpose, my reason for existence, and enjoy what has been a fruitful and rewarding career path."
Faculty members were also presented with awards. 
Carrie Griffiths, associate professor of pharmacy, was named Graduate Faculty Member of the Year after providing experiential education for 13 students. Her evaluation scores from students exceeded 98%.
Michael Geier, assistant professor of management, received the Excellence in Research and Scholarship Award. Geier conducted research into student mental health and presented a paper at the fourth World Mental Health Congress. He has three additional research projects in the pipeline.
Wingate President Rhett Brown implored graduates to make service to others a notable part of their future path.
"As time passes, I want you to not only recall the knowledge gained in classes, clinicals, seminars, practica and rotations but also remember the people who worked on your behalf, and the principles you learned here," Brown said. "The very best way to honor your experience at Wingate is to invest in others the way you have been invested in here."