The word "great" is often overused in daily conversation, but when describing Weddington senior Stephanie Watts, the weight of the word holds its own.
Watts scored 2,566 points for her high school career, helped lead Weddington to two Southern Carolinas conference regular season championships, a perfect 20-0 record in league play the last two seasons, one tournament championship (2015) and three consecutive N.C. High School Athletic Association 3A state playoff appearances (2013 to 2015). Before Watts arrived, the Warriors lay claim to just one conference title dating back to 2002.
"She's taken us to new heights as a program," Weddington coach Ryun Cook said. "We were so lucky to have such a level-headed, great teammate and great kid to coach that has that much talent and ability."
Her successful high school career ended with an outstanding senior season. Watts averaged 29.1 points, 8.8 rebounds, 6.1 assists and 4.7 steals per game to help lead the Warriors to a 29-2 (10-0) record and to the fifth round of the state playoffs.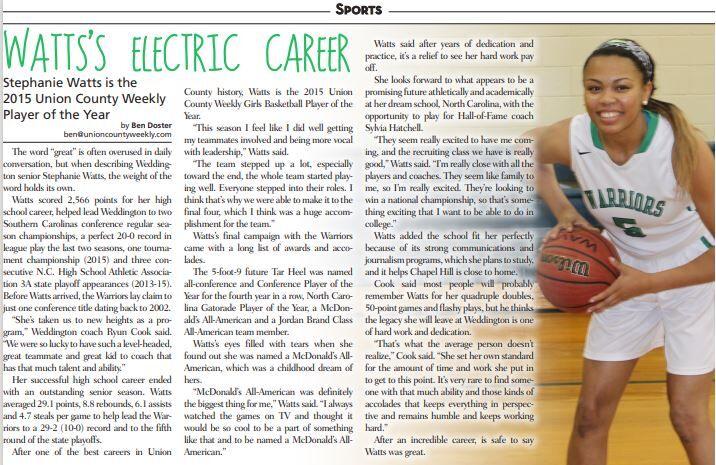 After one of the best careers in Union County history, Watts is the 2015 Union County Weekly Girls Basketball Player of the Year.
"This season I feel like I did well getting my teammates involved and being more vocal with leadership," Watts said. "The team stepped up a lot, especially toward the end the whole team started playing well. Everyone stepped into their roles. I think that's why we were able to make it to the final four, which I think was a huge accomplishment for the team."
Watts's final campaign with the Warriors came with a long list of awards and accolades.
The 5-foot-9 future Tar Heel was named all-conference and conference player of the year for the fourth year in a row, North Carolina Gatorade Player of the Year, a McDonald's All-American and a Jordan Brand Class All-American team member.
Watts's eyes filled with tears when she found out she was named a McDonald's All-American, which was a childhood dream of hers.
"McDonald's All-American was definitely the biggest thing for me," Watts said. "I always watched the games on TV and thought it would be so cool to be a part of something like that and to be named a McDonald's All-American."
Watts said after years of dedication and practice, it's a relief to see her hard work pay off.
She looks forward to what appears to be a promising future athletically and academically at her dream school, North Carolina, with the opportunity to play for Hall-of-Fame coach Sylvia Hatchell.
"They seem really excited to have me coming, and the recruiting class we have is really good," Watts said. "I'm really close with all the players and coaches. They seem like family to me, so I'm really excited. They're looking to win a national championship, so that's something exciting that I want to be able to do in college."
Watts added the school fit her perfectly because of its strong communications and journalism programs, which she plans to study, and it helps Chapel Hill is close to home.
Cook said most people will probably remember Watts for her quadruple doubles, 50-point games and flashy plays, but he thinks the legacy she will leave at Weddington is one of hard work and dedication.
"That's what the average person doesn't realize," Cook said. "She set her own standard for the amount of time and work she put in to get to this point. It's very rare to find someone with that much ability and those kinds of accolades that keeps everything in perspective and remains humble and keeps working hard."
After an incredible career, it is safe to say Watts was great.