If you own a rental property with tenants in it but are tired of it or just can't keep it any longer, you may wonder if you can sell it. With months left on a lease, it seems like you'd have to stay put until the tenants leave, but you have options.
How you handle it depends on the market, your tenants, and your overall goal with the property. You can sell the property with tenants or wait until their lease expires and sell a vacant home.
Both opportunities have pros and cons. Understanding how it works and what options you have can help you make the right choice.
Learn more about selling real estate properties with Roofstock here.
Factors to Consider Selling a Rental Property With Tenants
If you have tenants in your property, you have to consider a few things before selling.
• How much time is left on the lease?
• Will the tenants leave early if you ask (and pay them)?
• Will the tenants cooperate in showing the home if you list it now?
• Is the home in good enough condition to sell?
If the tenants stay on the property, you need their help. Selling a home requires a lot of work and a lot of time. There may be buyers coming in and out of the house, which can be difficult, especially when it's not your home to sell.
If you have cooperative tenants, they may be okay with helping you sell the property, allowing contractors and professionals in, and keeping the house in good condition so buyers can see the house whenever they want.
If you have less than cooperative tenants, though, you may not be as lucky. Your tenants may be unwilling to deal with contractors or let anyone in the home. They may view it as a violation of their privacy and insist you wait until the lease expires.
Finally, if the home isn't in good condition, you may have a lot of work to do before you can sell it. It could get too complicated with tenants in the property to fix up the home and get it ready to sell.
Dealing With a Fixed-Term Lease
If your tenants don't have a month-to-month lease, they have the right to stay in the property until the lease expires. But that doesn't mean your hands are tied. There are some options to consider.
Waiting for the Lease to Expire
The most common method is to wait for the lease to expire. It makes the most sense, especially if you have nice tenants. If they follow the lease terms, pay you on time, and are overall cooperative, you can wait it out and sell the property when the lease expires.
This may put you behind the 8-ball a bit, though, especially if you have an immediate use for the money. Depending on how much time is left on the lease, it can feel like forever before the lease expires. If you have work to do on the home, you may be looking at a few more months before you can sell it.
Pros
• You honor your tenant's lease
• You have an exact date when the tenant will leave, and you can get the home ready
• It's the right (and legal) thing to do
Cons
• It could push your timeline back several months or longer
• You won't earn rent while the house is vacant, yet you're still responsible for its costs
Pay the Tenant
If you're in a hurry and have a little money you can use to pay the tenant, you can use a method called 'cash for keys.' This is a settlement between you and the tenant to break the lease early.
If your lease doesn't have an exit clause or give you the option to exercise your right to sell early, this may be your next best bet. How you negotiate a settlement is a personal decision, but here are a few options:
• Offer to pay the difference between the new rent the tenant will pay and what you charged for the months left on the lease.
• Cover the cost of the tenant's new security deposit.
• Pay the tenant's moving costs.
• Come up with your own settlement that you think the tenant may accept.
While there's no legal obligation for you or the tenant to accept a settlement, you may have a chance if you're on good terms.
Pros
• You can help the tenant out while he/she helps you by leaving the property early
• You can get the house ready to sell faster
• You'll feel good knowing that you took care of the tenant
Cons
• It increases your costs of selling the house to pay the tenant
• Tenants don't have to accept your offer and can stay on the property
Sell the Home to Your Tenant
It doesn't hurt to ask your tenant if they have any interest in buying the home. If they have been there for a few years and seem comfortable, it's worth asking. If you know, they're in the financial position to consider buying. It could be a perfect time.
If the renter doesn't have the finances to get a mortgage and you're in a position to offer seller financing, it's another way to entice them to buy the home. If you offer seller financing, the renter pays you a mortgage payment rather than rent. After a few years (depending on your agreement), the buyer would refinance the seller financing debt, get a standard mortgage, pay you off, and set you free.
Pros
• The seller is already familiar with the home, and you
• You don't have to worry about getting the home ready to sell or marketing it
• You may sell the home faster since the tenant is already in it
Cons
• Seller financing can be risky if the buyer defaults
• You may feel uncomfortable negotiating a purchase price
Sell the Property to an Investor With the Tenant in It
Another option to sell a rental property with tenants in it is to sell it to an investor with an active lease. In other words, you sell the property and the tenants to the investor. When the investor buys the home, he/she earns cash flow from day one because it already has tenants in it.
This offers the best of both worlds for everyone - you sell the house when you want to, but you don't have to ask your tenants to leave. They keep the house and even the same lease. They just pay someone different.
This step is harder to do on your own or even with a real estate agent, but with a platform like Roofstock Marketplace, it's easy. Roofstock brings investor buyers and sellers together to achieve the same goal - buy and sell real estate.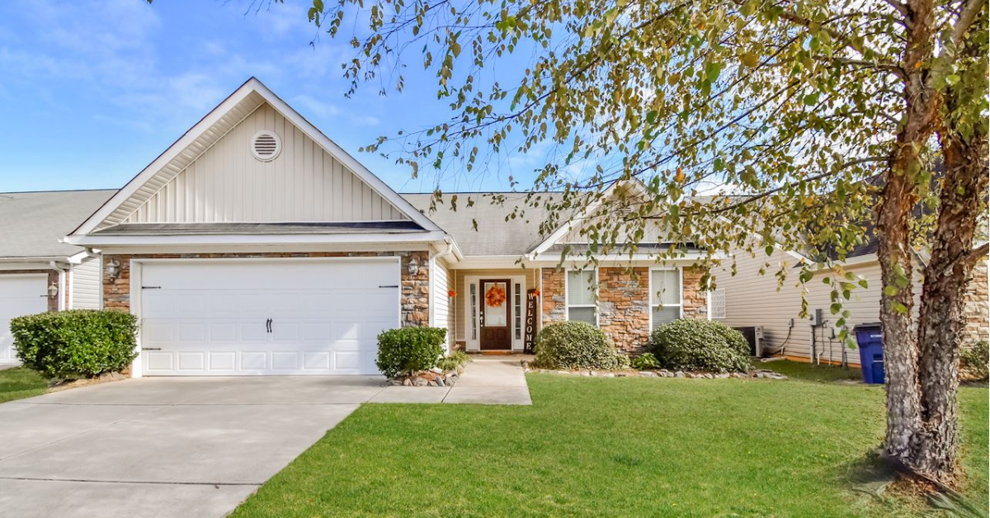 How Roofstock Can Help You Sell Your Home
It may seem weird to sell your home with tenants in it, but with Roofstock Marketplace, it's easy. The platform was built for situations just like this - helping sellers find investors who want to buy a home that already has tenants.
Why would an investor want a home with tenants in it already? Here are just a few reasons.
• They have to do less legwork finding tenants and dealing with months with vacancies and high carrying costs.
• The lease and everything are done for them - all they have to do is buy the home, and they instantly have an investment with monthly cash flow.
• Investors know their rate of return before buying the home, making it less of a gamble for them.
Roofstock Marketplace helps sellers sell their homes quickly and easily. With its online platform and superior support, it's easy to sell your home without stressing about how you'll handle the process.
Roofstock professionals take over the situation as soon as you contact them about listing your home. Their full-service platform helps buyers and sellers through the process. Here's how they help sellers:
• Roofstock professionals do all the legwork. When you sell an investment property, investors have a lot of questions. They want to know the home's condition, that it has a clear title, and what type of return they'll get. Roofstock provides all this information and more for buyers making it easy to sell your home.
• You communicate through the online platform. You don't have to see buyers in person or even talk to them on the phone. You handle all communication online, making it easy to always get in touch with buyers and to communicate efficiently.
• Roofstock markets directly to the audience you want - real estate investors. If you sell the property through a real estate agent, they may not have the right network to view the home. Roofstock has an audience of hundreds of thousands of buyers, just what you need to sell your property with tenants.
• Roofstock sees you and the buyer through the entire process until closing. You continue to collect rent on the property until you close on the property, and Roofstock guides you along the way.
How to Help Your Tenant Through the Sale
If it feels stressful to you to sell the property with a tenant, here are some tips to keep everyone on the same page and to ensure the sale goes smoothly.
1. Tell Your Tenants About the Sale as Soon as You Know
Don't spring it on your tenants that you're selling the property. As soon as you decide selling is the right thing to do, inform your tenants. They may have to let in Roofstock inspectors so they can ensure the property is in good condition too, so letting them know ahead of time is courteous and necessary.
2. Introduce the Buyer and Your Tenants
Before the closing or soon thereafter, introduce the buyer to their new tenants. This puts everyone at ease. While nothing will change with the buyer's lease or rent payment, there is still a 'changing of the guard,' and it helps smooth things out if you do a quick introduction.
3. Let Your Tenant Know if the Buyer Will Use a Property Management Company
Many Roofstock Marketplace buyers use a property management company to handle the rental property, especially if they live far away. Roofstock Marketplace has hundreds of thousands of members, and anyone can buy it. If someone out-of-town buys it, they'll have a property management company handle the property.
4. Leave on Good Terms
If you and your tenant had a good working relationship, you could leave on good terms. Reassure the tenant he/she will be in good hands as Roofstock does all of the due diligence that ensures both sides of the transaction are a good fit.
Should You Sell Your Rental Property With Tenants in It?
This is a question many people struggle with when thinking about selling a rental property with tenants in it. Is it right?
It's perfectly legal, and sometimes it's necessary. While you'd love to stay on as the landlord, sometimes life doesn't allow it, and that's okay. As long as you follow the law and don't violate your tenant's lease, there's nothing wrong with selling your rental property with tenants in it.
Using Roofstock Marketplace as the go-between for you and the buyer is a great way to make sure all parties are well-matched and the transaction goes smoothly. Roofstock specializes in rental properties with tenants in it and has a market that looks for these properties.
Roofstock can help you sell your home faster and for the price you want while taking care of your tenants too. It's a win-win situation for everyone involved.