CHARLOTTE – Samuel and Rubina Batt moved from Philadelphia to the Charlotte area to start a family. And as soon as they began expecting their first child, Samuel started looking for new careers. 
The IT consultant wanted to cut down on travel to be with his growing family. Franchising made the most sense. He saw a sweet opportunity in TCBY, a frozen yogurt brand he had grown up eating that didn't have a presence in town.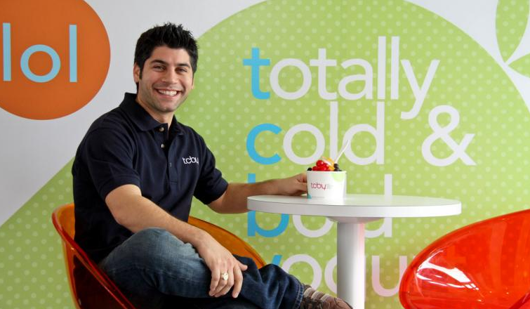 He opened a TCBY's first self-serve location in the nation at the Colony Place shopping center 10 years ago. The Batts now have four children and 24 TCBY stores. 
"I didn't want to grow because I had to," Batt told The Weekly on the eve of TCBY's 40th anniversary celebration on Aug. 3. "I wanted to grow because it was the right thing to do."
Batt is one of TCBY's biggest success stories. 
Publications like QSR Magazine and Franchise Times have shared stories of his rapid growth in the Charlotte market. 
Convincing corporate to let him open the first self-serve store was key to his success. He opened three more stores that same year. His goal was to secure the very best locations for his stores. 
Soon, corporate approached him about others wanting to open TCBY stores in the area. At that time, demand for frozen yogurt in the Charlotte region was at an all-time high. With first right of refusal of others entering the Charlotte territory, Batt became an area developer for TCBY so that he could be in a position to grow the brand in the best way possible.
Half of Batt's 24 TCBY stores are in the Charlotte market. He also has eight locations serving the Charleston area, as well as some further out in Clemson, Lenoir and Wilmington.
Recently, Batt acquired a Mrs. Fields shop in the King of Prussia, a mall outside of Philadelphia where he grew up. He has plans to co-brand that particular Mrs. Fields shop with a TCBY. 
He also signed up to become an area developer for the gourmet cookie brand and will be planning stores in the Philly and Charlotte areas. 
Like many business owners, the past couple of years have been hard due to the COVID-19 pandemic. 
Two of the biggest challenges his stores are encountering post-2020 involve staffing and the supply chain. These issues have made it difficult to staff stores and may limit some frozen yogurt flavors and toppings. 
Batt tries to provide a great place for employees to work. Batt tried to keep stores open in circumstances where employees wanted to continue working and earning a paycheck. 
His shops have tried to overcome rising prices along the supply chain, as well as the inability to select items from distributors, by buying locally and being creative. 
"We're hoping customers can appreciate it and understand why there may not be the flavor they love or the topping they love at all times," he said. "Hopefully, they'll continue to love coming into our stores. We're just trying to create that same experience they had prior to the pandemic."
For all the effort being put into sanitizing stores during the pandemic, Batt doesn't want to lose sight of the fact that people have traditionally come into TCBY to celebrate birthdays, anniversaries and other milestones. 
The other day a couple came into one of the stores celebrating the anniversary of their first date from 27 years ago. Each year, they celebrate at a different TCBY. Batt gets excited when he hears customers share their stories about the brand. 
"We just want to continue to provide that for people," he said.